TV Guide- July 8, 2000

As Survivor mesmerizes the country with castaways' spats — and all those rats — TV Guide asks a panel of experts who will be the last man or woman standing.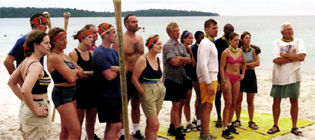 In just six weeks, CBS's Survivor (Wednesdays, 8 pm/ET) has become a national addiction, with more than 20 million viewers a week — and just as many guesses as to what the outcome of the island contest will be. With seven weeks to go, TV Guide asked a panel of experts — some true survivors — to help us compile a Survivor Survival Guide of tips and advice plus a prediction or two. Our tribe includes: wilderness guide and author (A Little More About Me, W.W. Norton) Pam Houston; author Richard Stengel (You're Too Kind: A Brief History of Flattery, Simon & Schuster); Boyd Matson, host of National Geographic Explorer on CNBC; TV Guide contributing editor Susan Stewart; author Andy Borowitz (The Trillionaire Next Door: The Greedy Investor's Guide to Day Trading, HarperInformation); Robert Young Pelton, host of the Travel Channel's World's Most Dangerous Places; David Borgenicht (coauthor of The Worst-Case Scenario Survival Handbook, Chronicle); and GQ contributing editor Joe Queenan.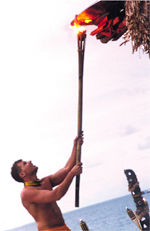 RULE NO. 1: BE NICE
David Borgenicht: It's not survival of the fittest, it's survival of the most well-liked. You have to toe the line between making people like you, making people realize how necessary you are and also winning the immunity challenges.
Andy Borowitz: The rats on the island possess a key survival skill that has eluded the humans: They know when to keep their pie-holes shut. Take Richard. Sure, he caught a couple of fish, but then he wouldn't stop annoyingly reminding everybody about it. The rats, in their admirable silence, have yet to alienate a soul.

RULE NO. 2: JUST NOT TOO NICE
Richard Stengel: One of the things about flattery is that men are more susceptible to it and more judgmental about it. If you're on the receiving end, you're more likely to say, "Hey, this is a great guy who's flattering me." But if you observe someone else being flattered, you're going to be much harsher. Flattery can backfire in that your teammates might think of you as a smarmy little weenie.
Susan Stewart: I bet nasty, gnarly Rudy, the homophobic 72-year-old retired Navy SEAL, outlasts the whole bunch out of pure spite. He's like a cockroach. They'll never get rid of him.

RULE NO. 3: IF YOU CAN'T BE NICE, WHISPER
Stengel: Stacey [the third person voted off the show] was trying to mobilize opinion against Rudy, and she was doing a very good job of it, but she should have been more discreet. Lie low and let the other people be plucked off. Only when it gets down to the last few should you emerge as this dynamic, powerful leader who's been harboring secret plans all along.

RULE NO. 4: SEX MATTERS
Pam Houston: I think the men are going to vote to keep the men, and Susan's going to vote to keep the men. She wants to be the only surviving girl. But Greg's not going to make anyone mad and is going to come through accidentally, the way young, handsome, ex–Ivy League, living-in-Colorado guys do. He'll win, and he won't even care.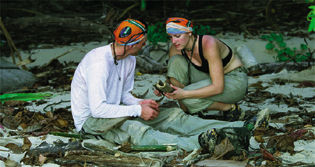 RULE NO. 5: KEEP YOUR SHIRT ON
Boyd Matson: My first advice is to Richard: Put a shirt on! Not only will it protect you from the sun, but other team members won't vote you off so quickly. Right now they're thinking, "Can I actually keep looking at this guy?" In fact, several of those people could stand to wear T-shirts.
RULE NO. 6: KEEP YOUR PANTS ON
Matson: Colleen and Greg have gone off together on little walks, and even if there's nothing romantic, it pisses off the other team members when you start having special relationships. And since Greg is more valuable, they're going to lose Colleen.
RULE NO. 7: BLESSED ARE THE PEACEMAKERS
Houston: You have to be able to make peace. In a real crisis—an avalanche or a flash flood—if you can keep people from panicking, you can get a lot more done.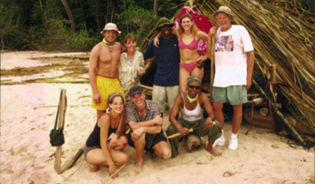 RULE NO. 8: FACE FACTS
Joe Queenan: The first thing young people do when they get to a desert island is get rid of the old people. Next will be the middle-aged people. Then the women will be eliminated, in ascending order of beauty, until only Colleen remains.

RULE NO. 9: FISH FOR COMPLIMENTS
Robert Young Pelton: At first, Richard was like, "I'm going to sit and pout." Then he realized he was a useless idiot and started catching fish. That was the most profound change in dynamics. He realized, "I'm going to get killed unless I provide."

RULE NO. 10: DON'T PULL STRINGS
Queenan: A senior citizen armed with a ukulele is amenace to society.


Reported by: Max Alexander, Shawna Malcom and Ileane Rudolph
CUTTHROAT ISLAND - STYLE COUNSEL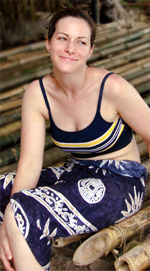 No one knows who will be the sole Survivor when the CBS megahit wraps up at the end of the summer. But a few other burning questions also beg to be answered. For instance: Are they getting free clothes? Yes. Reebok, the show's official clothing sponsor, has provided the tribal bandannas along with other apparel and footwear. For the latest in castaway chic — and a few fashion faux pas that should be sent packing — read on. —Diane Clehane The bandanna. In two of the most fashionable colors of the season (yellow for the Pagong tribe, orange for the Tagi), this small square of fabric is a true test of each contestant's fashion savvy. While most cast members are fit to be tied for wearing it as a neckerchief, two scored extra points in this department: Colleen, who turned the napkin-sized cloth into a tiny tube top, and Dirk, for his surfer dude–inspired head wrap.

Haute headgear. Every member of the island rat pack has topped off his or her look with a hat. In a head-to-head competition, the award for most-chic chapeau goes to wide-brimmed straw styles (as worn by Kelly and Colleen) and the baseball cap worn backward, favored by Sean and Ramona. On the other hand, Sonja's safari hat was totally bush league.
A pretty pareo. You can't go wrong with a sarong. Many of the female castaways have gone native by sporting these colorful covers over their bikinis. The most Ginger-like interpretation was executed by Ramona, who artfully transformed hers into a halter dress. Of course, fashion acumen doesn't necessarily translate into winning the big bucks, but it does earn her our Most Stylish Castaway award.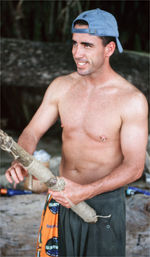 Sandals. For those long walks to tribal council in the jungle, stilettos just won't do. Reebok's DMXCursion's sport sandal is the sturdy yet stylish footwear choice and may be one of the few items to make it home from Pulau Tiga.
Sunglasses. A warm-weather must and an absolute essential for the winning survivor, whose post-island life will include dealing with the inevitable 15 minutes of fame.
Jewelry. A definite don't. Lose the macramé necklaces (seen on Kelly) and Buddha-bead bracelets (Sonja, Ramona and Kelly); they're so five minutes ago. And gold jewelry on the beach (Gervase) is a definite don't. This means you, too, Sean. That nipple ring is cheesy.
---
All text and pictures are copyrighted by CBS and TV Guide.
Back to the Survivor page