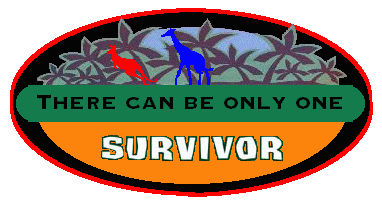 Last update: january 2, 2002
What was updated:
road rules: episode 112, survivor: season 3 work, the mole:

Well I said that I would have up season 4's page and finally I have in it up. I will continue to work on the page and try to make it better. Thanks for all of your support. Billy
I was not sure what I was getting into when I sat down to watch the first episode of the Survivor, I have seen a lot of Voyeur shows (re. Road Rules, Making the Band and Real World). But this show had many cool things happening in it, the fear of your favorite cast member getting kicked off, the excitement of seeing the cast survive eating weird animals, but the best and worst part is knowing that there will be one winner after 13 episodes. So this site is dedicated to this awesome show.
If you have any ideas or if you would like to help with the site please feel free to email me. Billy


All text and pictures are copyrighted by CBS, page put together by billy gilmore